Online video is huge these days with billions of videos being watched online every day. YouTube is the largest video website of course and many people are making a living from creating videos and placing them online for others to watch and enjoy. If you are a video content creator and would like to display your videos on your own website, then WordPress is a the perfect CMS for you, you can upload videos directly to WordPress via the media section, or you can embed videos hosted elsewhere from sites like YouTube and Vimeo.
By using video you can engage a whole new audience, for example if you run a content website such as a blog or magazine, you can create a YouTube channel and start producing videos to go alongside your blog posts and they will help you gain traffic by appearing in the Google search results and also appearing in the internal search engine in YouTube. Videos also make for great material to share among your social media profiles, video does especially well on Facebook with people preferring it to reading content there.
---
Exclusive
WPEngine Coupon Code
for AlienWP Visitors!
Get 5 Months Free & 30% Off All Plans.
Click the coupon code to copy and open the link »
---
---
To build your site you will need a good WordPress theme which is where our ultimate collection will come in handy for you – we have gathered together over 50 of the Best WordPress Video themes for you. These themes have great looking modern designs, they are responsive and all have been designed with videos in mind. Use them to display your own content or create a site pulling in other people's videos, some of these will even let you create your own YouTube competitor!
Video
Video is one of the most full-featured and well designed Video WordPress Themes. It is a WordPress theme that is built for blogs that have media such as videos. With a like/dislike feature, watch later feature, playlist, low bounce rate, integration with YouTube for view counts. With an intelligent social popup that shows up when a viewer is done watching a video – this theme is the easiest way to create yourself a viral website.
Video theme is built with latest web conventions in mind and it works on all the major browsers out there. With options to enter view count manually or automatically, moderate user submitted content, show/hide video timer and much more – you are truly in control of what appears on your website.
Flick
Created with bloggers in mind, the Flick WordPress theme lets users enjoy the media content on your website to the max as they browse through. The theme features a clean uncluttered layout that lets your content shine through and the media speak for itself. With many elegant features, HTML5 support and cool mouseover effects, Flick can get the best out of any blog.
Swell
Minimalistic yet striking, that's Swell for you. This WordPress theme lets you speak volume with videos without getting in the way of the content. Keeping the site pages and sections neatly tucked away at the top, Swell lets you create mesmerizing full-screen video backgrounds that will etch your site in the hearts of the viewers forever.
TheMotion
Set your video blog website in motion with TheMotion, a fully responsive WordPress theme with a unique look and feel. The theme comes with premium and elegant colors which make the website look as stylish as possible. TheMotion has 2 different homepage layouts so you can choose the one you want and customize to get the exact result you had in your mind.
The theme also has a beautiful slider option and support for language translation. With TheMotion powering your video blog, you will not have to worry about user satisfaction anymore.
Video Box
Video Box is a beautifully designed theme aimed at hosting video content, you can upload your own videos or embed videos from YouTube, Vimeo and many other providers. It has a nice clean layout with sliders and other content boxes to showcase your video content in style.
Inspiro
Inspiro is a WordPress theme for photos and videos with a clean modern and responsive design which packed full of features you will need for this kind of site. It has a full screen slideshow that supports self-hosted and embedded videos and a customizable homepage, custom gallery module and lots more.
Videographer
Videographer Theme Responsive WordPress Theme is great theme for video maker, film maker, with clean design and minimal layout. Videographer theme has minimalist style and mobile friendly design.
VPress
Minimalistic yet striking, that's Swell for you. This WordPress theme lets you speak volume with videos without getting in the way of the content. Keeping the site pages and sections neatly tucked away at the top, Swell lets you create mesmerizing full-screen video backgrounds that will etch your site in the hearts of the viewers forever.
VideoTube
The VideoTube WordPress theme is exactly what you would expect, a perfect WordPress theme to embed videos from websites and showcase on your video website. VideoTube comes with support for oEmbed and Iframe embed. Using VideoTube, embedding videos from YouTube, Hulu, Dailymotion and similar sites is a breeze. The clean segmented layout adds to the viewing experience.

Snaptube
With the "three step setup", install the Snaptube WordPress theme in just a snap and have your website ready to display all the media content you want. Options for video submission, seamless video playing, categorizing and featured videos, Snaptube will turn your website into the video website you always wanted.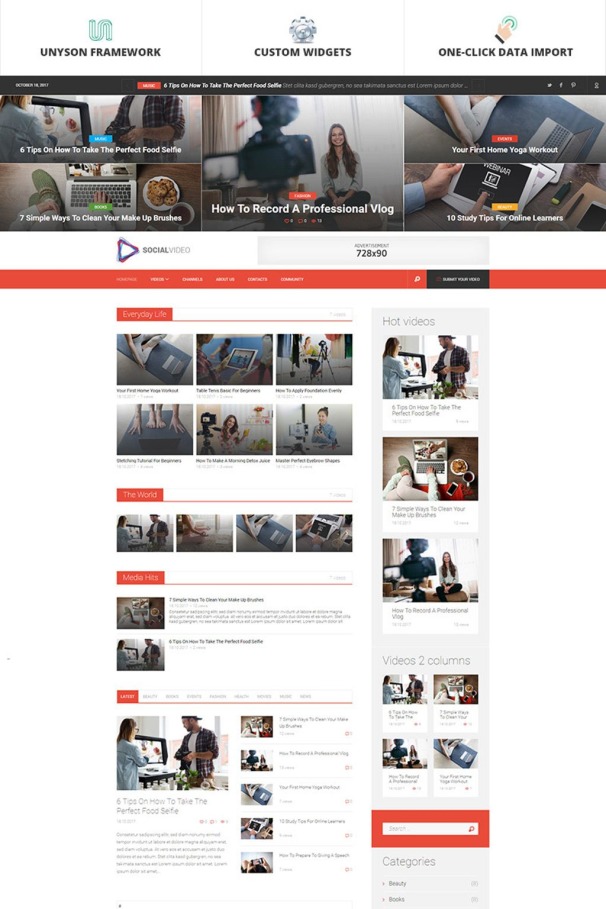 Video Records
Extremely fast and easy to navigate, the Video Records WordPress theme is a perfect solution for a video blog website. The theme comes with a unique slider option that lets users find and watch videos very easily just by running the slider back and forth. Categorized videos in the slider and previews of other videos below will make the users fall in love with your video blog.
Moreover, Video Records was built on top of the Cherry Framework which makes customizing a piece of cake. Video records comes with loads of customizing features, and you can tweak your site both from the backend and the frontend without writing a single piece of code. Clean, uncluttered background, striking contrasts between background color and your video content ensures the website will have a lasting impact on the viewers.
Video Blog
True to its name, the Video Blog WordPress theme was developed to turn your website into the ultimate video blog. Video Blog features a truly unique layout that sets it apart from other themes on the market. Built on the Cherry Framework, Video Blog is extensively customizable. Without writing any code, tweak and customize each element of the homepage and other pages until the website meets your needs. Developed by professionals, Video Blog comes with large tiles of video post previews that look unique and catchy.
Video Content
A simple, minimalistic yet beautiful theme, the Video Content WordPress theme focuses on what matters the most, the media content on your website. Fully responsive to fit all screen sizes for the best entertainment experience, Video Content can create a remarkable video blog that users will cherish.
Videographer
A truly beautiful WordPress theme designed for video blog websites, Videographer has a simple design but allows you to display your media in the most impressive way possible. With separated page titles at the top, video category list and a search feature, Videographer is extremely soothing for the eyes. With the fully responsive design to give your users nonstop entertainment on any device, this could be the match made in heaven for your ideas and your website.
VideoPro
Often touted as the most powerful video WordPress theme, VideoPro is a premium theme that will help you build a professional website that can compete with the best in the business. With the tons of customizing features, you can setup your site to display any kind of media. Your website created on top of VideoPro will look and feel like a true big hitter of the game.
Slimvideo
If you are looking for a simple, elegant and effective solution for your video blog website, look no further than Slimvideo. Developed by premium WordPress theme developers Touchsize, Slimvideo comes with an attractive and eye-catching homepage layout that looks premium in every way. With beautifully segregated options for browsing categories and a slider option, Slimvideo will take your website to the next level.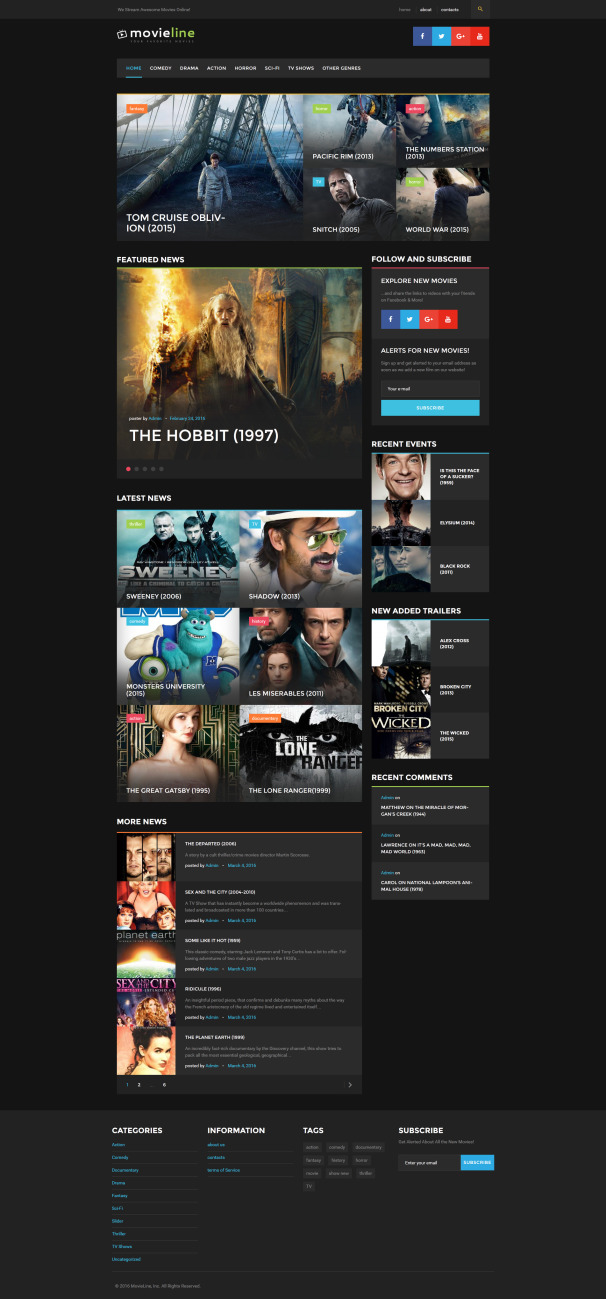 Vlog
Dedicated to vlogging, the Vlog WordPress theme is a cut above the rest with its beautiful and dynamic design. The theme allows you to create a magazine or blog website with high-quality video content and provides easy navigation, readability and browsing experience to the users.
But that's not all. Vlog also come with a "Watch Later" feature, playlist support, cinema mode and other useful features. Vlog supports embedding videos from popular tube sites such as YouTube, Dailymotion and Hulu giving your website that extra edge.
Zeus
A god amongst Video WordPress Themes, Zeus will blow the viewers of your video blog away with its layout, features and style. Support to play full page video in the background, an elegant collapsible ribbon for website categories and support for shortcodes, Zeus can turn your website into a viral video blog with ease.
NewsTube
Created with news and magazine websites in mind, the NewsTube WordPress theme is a perfect choice if you are about to launch a video website. NewsTube can easily embed videos and channels from YouTube and supports oEmbed to import videos from Hulu, Vimeo and Dailymotion.
NewsTube comes with simple, uncluttered and yet rich professional look and feel. This fully responsive theme looks amazing on any screen size as it is also Retina Ready. Using the extensive theme customizing options, create the website you want without writing any code.
VideoTouch
Give your video blog website a touch of smartness and elegance with VideoTouch. This WordPress theme is also developed by Touchsize, pros at theme development so you know you can expect quality. VideoTouch comes with beautifully tiled video previews, search option, and video categories to improve the browsing and viewing experience. Your viewers can enjoy the videos on your website on any screen they want thanks to the fully responsive design. So if you want to create a classy, feature-rich and powerful video website, think VideoTouch.
Moview
The Moview WordPress theme can give your website the perfect blend for playing media content and create a video/movie review website such as IMDb or Rotten Tomatoes. With its professional looking layout and many useful theme extensions, you can create catalogs of hundreds of movies, video albums, DVD releases, concerts and more and create a one-stop shop for users to know everything about a movie release, even a video game release. Moview is fully responsive to suit every screen size.
Gigawatt
The Gigawatt WordPress theme has been a massive hit in the market and now it is perhaps one of the very few video themes to have e-commerce support. With Gigawatt, you can setup an online store with video content about products or create a videography equipment online store where you can feature videos about videography. The simple yet attractive layout of the theme also makes it a great choice for vlogs.
Primero
Give your travel videography or vlog website that extra power with Primero. This WordPress theme comes with 3 unique sliders to choose from, unlimited color schemes and a help file detailing everything you need to know about the theme. Minimalistic and elegant, Primero should be the primary choice for your blog.
Viduze
Donning many hats at the same time, Viduze is "the" premium WordPress theme for all your needs. Viduze comes with support for WooCommerce, helping you to create an online store, support for BuddyPress to launch your social media website and unique slider video display.
Viduze is developed on the Twitter bootstrap making at as fast and robust as you can imagine. With its fully responsive layout, Viduze is the best solution for your video magazine or video blog website and even an online store!
True Mag
The True Mag wordpress theme is a perfect choice for a video magazine or a video blog website. Boasting numerous features such as video submission, shortcode support, Video Ads support, auto play, self-hosted video support and much more, True Mag should be the only video WordPress theme you ever need.
To top it all off, TrueMag is also SEO ready and fully responsive. Developed using UI and UX with support for HTML5, Just install True Mag and watch your website transform to something exciting in front of your eyes.
Video Magazine
The Video Magazine theme is the perfect template for a video blog, video magazine, fashion magazine or even a simple vlogging website. The power of Video Magazine lies in its design. The theme provides you every element of the homepage and subpages as widgets so you can move them anywhere and design the site as you want. This fully responsive theme also supports oEmbed from sites like Vimeo, YouTube and Dailymotion making it a perfect package.
Solar
Solar WordPress theme comes packed with many features to get your video blog or news website up and running in no time. With a crisp and smart layout, Solar is fully responsive making it easily viewable on any screen. The theme comes with a detailed help file allowing you to get the best out of it.
Betube
The Betube Video WordPress theme is a beast of a template when it comes to designing a fully functional video website. The theme comes with a slider for video preview and playback, fixed width full page templates and a fully responsive design. The Betube theme looks extremely attractive and elegant when used and you can chooses from 10 different homepage designs for your website. With the easy customizing options, Betube will let you create your ultimate video blog website in just minutes.
Video Cafe
The VideoCafe WordPresss theme is the template to go for if you want to build a video streaming and upload website akin to YouTube. Video Cafe lets the users upload their own media, play videos on a large full width video player up top, upload images and other media and share videos as well. The theme also provides multiple homepage layouts to choose from.
Photography & Video GoodWin
Photography and Video GoodWin is a stellar product from GT3 themes. This WordPress theme comes preloaded with a plethora of layouts, features, galleries and customizing options. Photography and Video GoodWin is targeted at photographers and videographers who can take advantage of the absokutely stunning full page media display layout. With demo content import tool to import all your creative content from elsewhere, Photography and Video GoodWin will give your creativity that much needed online boost you always hoped for.
Videofly
Just a single look at the Videofly WordPress theme will tell you how simple yet elegant it is. But do not let the simplicity fool you, this video blog theme packs a mighty punch. With Videofly you can add new videos, play or embed existing videos from tube video websites and customize the website to your liking with lots of inbuilt features. The theme provides you with many layouts to choose from. Fully responsive and easy to edit, Videofly is the perfect template for a vlog or a video tutorial website.
VideoMag
The VideoMag WordPress theme is all about content and speed. Designed for video magazine and video blog websites, VideoMag can also be the template of choice for a online video portal. VideoMag allows you to add videos from popular video portals such as Twitch, YouTube, Vimeo or add videos of your own. The theme will generate thumbnails automatically from the videos. By saving the embedded videos in your hosting server, VideoMag can show the media content at blazing speed.
THE PASSION
Let your passion be known to the world with The Passion, a premium WordPress video blog theme. The Passion comes with chock full of features which makes it a great choice for video tutorial portals, video magazine websites, portfolio, company and product websites as well. With the sharpness and elegance of a premium expensive website, The Passion can create stunning websites with utmost ease and provides you with the best of the internet.
Entourage
Entourage is a professional looking premium WordPress theme that is created with movie promotions, music video launches and project presentations in mind. But the fully responsive design allows Entourage to be used as a template for a variety of purposes. Any video blog, videography website or company website can benefit from using this theme. Easy to use and customize, Entourage provides a stunning display to hook the viewers.
Video Gallery
As the name suggests, Video Gallery is a perfect fully responsive solution created for your video gallery website or online video portal.
Vidmeo
Originally aimed at video and photo stores and businesses, Vidmeo is back in a new avatar with plenty of features and customizing options to turn it into a perfect template for your video blog or videography website. Vidmeo is fully responsive, meaning users can view the media from any device using any screen size. It is still a great theme for your business as you can create stunning galleries of your projects to turn viewers into customers.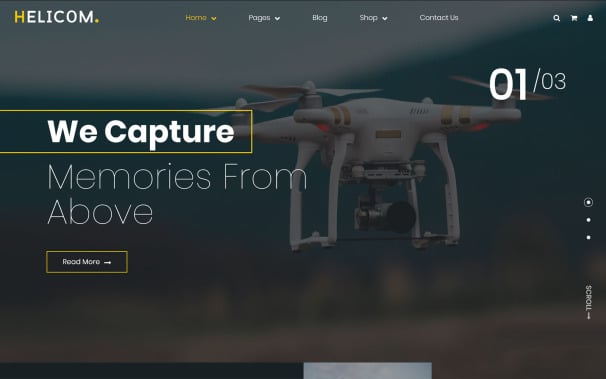 Video Lab Moto CMS
Simple, unique, beautiful. That is Video Lab Moto CMS for you. This content management WordPress theme is fully responsive and provides a unique homepage layout to showcase your projects, promotional content and personal videos to the users.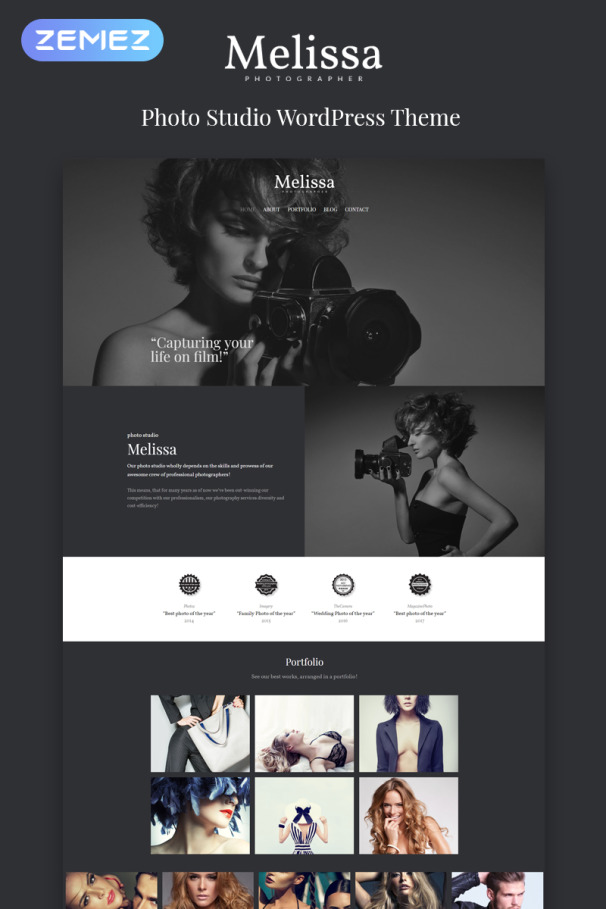 Video Lab HD Studio
With the look and feel of a million dollar website, Video Lab HD Studio boasts of a cutting edge visual layout. Perfect for video magazines, video portals and video galleries, this WordPres theme is fully responsive as well. Easy to install and customize, Video Lab HD Studio can give your video blog or your business website a cutting edge.
Visee
Simple, stunning and smart, the Visee WordPress theme is all of that and more. Upload great media content to showcase your personal video blog, your company or your videography escapades and organize them using channels with Visee. Fully responsive to support the latest mobile devices, Visee is a simple but effective solution for your online worries.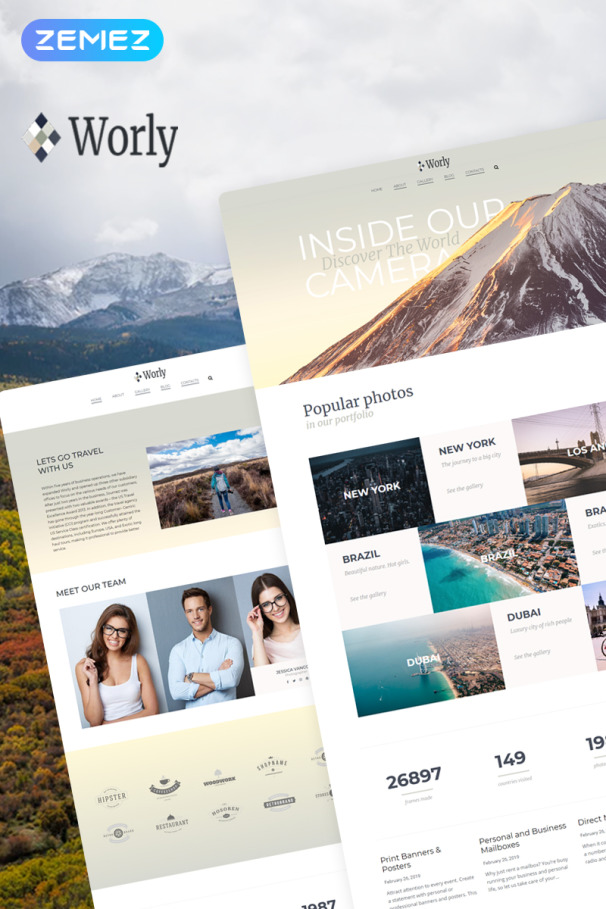 VideoBox
VideoBox is a beautiful WordPress theme that is designed especially for online video portals and video blog websites. VideoBox is fully responsive and gives you that premium feeling with its layout and features. With video categorizing, channel support, search function and separate categories for full movies and videos, VideoBox is the solution for all your video website needs.
RYDON
Touted as the biggest and most powerful video WordPress theme, Rydon is built for performance. Designed especially for companies, videography websites, product websites and video galleries, Rydon is fully responsive and can handle any type of content with ease.
SOHO
Developed by GT3 themes, SOHO is a powerful and unique video WordPress theme that can also double as photo gallery website. With blazing speed and the GT3 page builder, building a website with SOHO is a breeze and the result is absolutely stunning. With its fully responsive features, your viewers will always be enjoying content from your website. With SOHO, color editing, easy content upload and management are as simple as 1-2-3.
This Way
If all of the above WordPress themes do not capture your fancy then look This Way, a premium WordPress theme that is built with "You" in mind. Developed with CSS3 and HTML5, This Way looks stunning from every angle and the JQuery animation effects take this template to the next level. This Way comes with easy customizing options, full screen video and image backgrounds along with social media shortcuts to take your website to the next level.
The Producer
Are you an indy film producer looking to showcase your latest project or a professional movie maker displaying your latest blockbuster to the world? Whatever your needs are, you cannot go wrong the "The Producer". This fully responsive WordPress theme can blow your viewers away with its elegance, brilliance and effects. The unique Panel effect and the much-known credit roll effect adds a layer of superiority to this theme and allows it to outclass many other themes on the market.