Selling clothing and accessories online is a great way to build a very successful eCommerce brand and Shopify is a great platform to let you set up your store. Shopify is a web service designed to make it extremely easy to get a full featured and professional looking eCommerce store online with many features to rival the large eCommerce software available.
While Shopify handles the back end of your website, you will need a great looking theme for the front-end, this is arguaby the most important part of an eCommerce store as this is the part that the customer interacts with. A good eCommerce theme should be fast-loading, attractive to look at and search engine friendly. It should also be responsive so it will work on all size screens from mobiles to desktops and laptops.
---
Exclusive
WPEngine Coupon Code
for AlienWP Visitors!
Get 5 Months Free & 30% Off All Plans.
Click the coupon code to copy and open the link »
---
---
We have gathered together over 60 of the Best Fashion Shopify themes which we could find, take a look below and choose the perfect theme for your clothing web store.
Handbag
Handbag Responsive Shopify Theme – lovely clean modern design suitable for all types of fashion and clothing sites.
Male Fashion
Fashion and beauty sites put special emphasis on the visual part of their designs. The given template for building a fashion store is no exception. Rather than wearing down your customers with long texts, the designer offers to please their eyes with quality images displaying the clothing on sale at its best. The full width slider, four banners placed right under it, featured products, and thematic backgrounds – all this adds to better site aesthetics. Integrating blog into website you will never lose since it allows shoppers keep track of the latest fashion trends and renew their wardrobe on one and the same resource.
Watches
Watches Responsive Shopify Theme.
Alternative Outfit
People differ in the way they dress up. While some opt for more classic clothing style, others prefer alternative fashion. To make it simpler for web users to dress in style, the given theme was developed. Its grunge elements and black hues contribute to better understanding your business message. Highlighting special offers and product categories with vibrant pink shades, you can help users distinguish one item from another and pick the offer that meets their requests. Making use of the grid style organization of content blocks you will make your page look well structured and balanced, even though it is busy with many elements. Start selling alternative clothing online with the help of this theme, let people find their style.
Stylish Tshirts
Tshirts have become an essential piece of people's everyday wardrobe, as they are very practical garments and can also add a special touch to anyone's style. For that reason, many talented designers launch their own lines of Tshirts. To help them boast of their creative designs, we've developed this exquisite theme. As its color scheme features a perfect blend of pink and black, you'll have a chance to dignify offerings advertised on your platform adding them a touch of chic and sophistication. Thus, individuals who show up there will believe in the ability to enrich their wardrobe with trendy garment. Moreover, subdued images in the slider and footer ideally harmonize with the template's palette. Creating an online store with a sense of taste, designers will demonstrate proof of their talents to customers one more time.
Stylish Clothes
Many people make snap judgments about others by their clothing style, which is the reason why many of us choose garment with due diligence. To attract them to your offerings, you'll need to have a special knack in designing your online store. If you're looking for help in such an issue, you'll definitely find this theme useful. Thanks to red shades standing out against the light background, your customers will believe in the ability to make a powerful statement wearing clothes advertised on your platform. You'll also have an opportunity to entice visitors of your site with discounts by showcasing them at the most prominent places of the homepage, particularly its top and bottom. Using this theme, people will browse through your store in search of a perfect garment, which will boost a chance that they'll find and order it eventually.
Elegant Sunglasses
Since sunglasses can safeguard eyes against the dazzling sunlight, they're an essential accessory for everyone who needs to go out on a shiny day. To advertise these items among online shoppers, here's a decent template to build a store with. As a motley color scheme can divert attention from the main idea, black and white palette has been chosen for this theme. Such a simple color blend will not only let customers focus on your offerings, it will also present your web resource as a high class store. To add special charm to its image, this elegant theme has been brightened up with rich red elements. There are also several catchy info blocks at the bottom of the homepage, which will allow you to put emphasis on attractive details like discounts, new arrivals, etc. Using this theme, you're guaranteed to see a boost in sales of sunglasses in a short time.
Fashion Store
Fashion Store Responsive Shopify Theme
Branded Handbags
It's of high importance for websites selling luxury clothing and bags to look stylish and elegant. With the help of the template shown here, you will find no difficulty with building an online store that would combine aesthetics and functionality. For better monetization, we recommend to make use of catchy banners and share some of the most popular items right on the home page. This will awake user interest and encourage starting shopping right away. When a cursor is placed over the image, the 'add to cart' button comes up. A handy solution, don't you think? Those users who prefer shopping in a store, will find no difficulty with finding your physical location thanks to the integrated Google maps.
Lingerie Store
Lingerie as a gift is a kind of thing that will help the sterner sex create a romantic fantasy for their beloved ones. If your goal is to help men find the perfect intimate gift for their ladies or provide women with a convenient way of shopping underwear, don't pass by this theme. Rather than making visitors read through tons of information, you can help them focus on the intriguing images that will leave a deep impression in their minds and stimulate further investigation. Catch the eye, hold the interest and motivate the audience to make a purchase by means of this design.
Underwear Fashion
Check out sleek and cleverly designed theme for online shop selling fashionable items. It's perfectly tailored for stores that need to look appealing and follow the latest trends. It's designed in vibrant colors and large visuals on the slider and featured products box to make a strong first impact on the viewers and engage them. Thought-out navigation and wise disposition of content blocks will offer them seamless browsing of all shop items thus constructing pleasant shopping experience – the key point of every good shop.
Fashion Online Store
This website is specially designed for your online store. It features a responsive design that automatically adjusts your website to any screen resolution without losing the content. It means that more people will reach you even from their mobile phones. It also includes fixed menu that ensures user friendly interface. At the top of the template you can see a fullwidth gallery with hover effect that gives your page a touch of personality. In the content section there are fullwidth images with parallax effect and integrated Google map that allows customers find your location in seconds. With this fashion clothes Shopify theme you will observe income boost any time soon.
Stylish Watches
Watches add a special touch to our style. For that reason, these accessories are chosen with due diligence, and if you are their retailer, you will need to put strenuous efforts to advertize your merchandize. With this template, it will be much easier to do. As white is the color of perfection and green symbolizes novelty, your offerings will have a cutting edge look against the background of this theme. Such an impression will make customers more inclined to order an item on your site. Another thing to benefit from is a well organized content structure. As soon as people enter your store, they will come across a slider where watches are shown in close up. Further down the page, products are combined in groups to facilitate search. All the aforementioned points make this template a perfect option for online presence of your store.
T-Shirt Designs
For many of us a t-shirt is not only a piece of closing but a way to express creativity. It has become possible to order any custom made design you wish. If you are running such a business and want to make it more convenient for your clients to get a t-shirt of their dreams, then this theme is just what you need. The simplistic design in black and white hues, with generous negative space allows each product to breath. Stylish fonts and awesome backgrounds will help you stay in users' mind for long. Star rating and categorization of items by new arrivals, featured and special offers will help with decision making. Making good use of social networking websites like Facebook and Twitter, the design allows everyone keep track of your updates online.
Original Clothing
This super clean modern women's clothes Shopify theme has everything you need to start a fashion-related shop aimed at bringing the ever-increasing number of sales. It is fully responsive to all portable devices to give its future visitors an optimal viewing experience. Large featured images and promo banners add visual appeal to the layout and engage the viewers in. Robust theme options and well-coded structure will help you with further customization of the look and feel of your site.
Shopping in Style
The theme can be a great fashion lover background with stylish items from the latest collections of the world leading brands. Thanks to the large slider with vivid calls to action at the top of the page, several banners organized in a grid, and smart categorization, one will find no difficulty with reaching the necessary piece of closing in a few clicks. Users will have constant access to their purchases thanks to the handy shopping cart, whereas clever blog integration allows keeping track of the latest news in the field. Make use of this design to provide every fashionista with unforgettable shopping experience.
T-shirt Shop
Nice and simple good sorting feature easy to manage but showing tags separately on collection page.
Plus Size Clothing
If you are only starting your online business or the collection of clothes that you sell doesn't fit within the display area, then Ladies Fashion Store Shopify Theme is just what you need for your business. This is a fully responsive design intended for eCommerce sites selling fashion and beauty items. If you need a theme for any other business niche – not a problem. Thanks to advanced customization options and a set of pro features, this theme can be modified in so many ways. Custom Page Templates, Alternative Module Layouts, Google web fonts, HTML plus JS animation, valid code, powerful admin panel – all these and many other options were included in the package. All of the options that are complementary for your online shop like search form, social options, dropdown menu, commenting system, newsletter subscription, and online chat will be at your disposal as well. This template is a part of The Best Shopify Themes 2016.
Swimwear
This template for swimwear stores can present your items in the best way possible. Its main menu is very simple and has tooltips that draw users' attention to additional information. A blue circular pattern brings up a strong association with water, sun and beach, which is perfect for the topic of this swimwear Shopify theme. Exclusive items are shown in an elegant slider followed by a clean block of featured products. They are represented with large images and bright, noticeable call-to-action buttons. Scrolling down the page, customers can see a blog section that highlights the latest articles related to the topic. As for the footer, it gives an access to a newsletter subscription form and back-to-top button.
Apparel
This template can be your favorite among The Best Premium Shopify Themes 2016.Compact and eye catching sleek design no matter what screen resolution you viewing. Fresh design with clean & neat layout.
Shoe Store
One Page Store is clean and quick Ajax based Shopify theme designed for exactly three exclusive products. The template helps to create full featured and conversion optimised websites with minimal efforts. Even though the theme may look pretty simple and minimalistic, it offers a wide range of useful tools! Cloud Zoom effect on products, Olark Live Chat, Product Gallery, Youtube video in the lightbox, Ajax cart are just to name a few. Another cool feature is a special offer top panel with counter. It helps to raise your conversion rate and draw customers attention to sales and limited time offers. We've also made a serious impact on site usability and convenient navigation. If you scroll the page up and down you will notice Sticky menu and Back to top button. You may be sure that the website looks and performs same great at any screen, device and resolution.
True T-Shirts
This responsive T-Shirt Shopify Theme will be a great choice for those who prefer simplicity and proven user interface practices. Its minimalist layout with bold fonts and contrasting colors is optimized for conversion, letting you to do your business without worrying about user experience. Another advantage of such minimalism is in the possibility to adapt this theme to any website topic without redesigning it completely. Additional features such as integrated Google Maps will be particularly useful in case you are running a brick-and-mortar store. As any other Shopify theme in our inventory, this one supports multiple currencies, and is coded according to the latest web standards. This template is what you need among The Best Shopify Themes 2016.
Underwear for Men
Fashion knows no boundaries, and your online store must reflect this tendency. Consider this men's underwear Shopify theme to set up a contemporary stylish shop with a catchy design. Its trendy look drives people in, and well-structured content and intuitive navigation offer pleasant user experience. People will enjoy seamless surfing around the site on whatever handheld devices thanks to the responsive layout of the theme. The valid coding plus well-written documentation provide for fast and easy customization and administration of the site.
Handbag
This theme in minimalist style was designed for handbags and fashion stores. Its main menu is hidden. Soft layout colors of Handbags Shopify Theme are easy and pleasant for the eyes. Concise texts can be quickly read by site visitor. Bags are presented in six columns. Product images are supplied with prices and short descriptions. Banner is huge and attractive. The author uses ghost call-to-action buttons, which perfectly fit the layout. Newsletter subscription form is placed above the footer links.
Lingerie
Lingerie Responsive Shopify Theme
Zhigan
This professional online store template is designed by qualified developers in accordance with modern standards. It combines a compelling look with a great functionality and smooth navigation that ensure a first rate buying experience to the customers. This clothing store Shopify theme will also work for stores of other kinds as well. You only need to do some minor design adjustments to make it match with the corporate style of your business. After that it is necessary to upload the required content.
JaneStyle
JaneStyle Shopify Theme
Time Craft
This classical design was created for a watch company. The author has chosen a proper style for a Watch Shop Shopify Theme , as watch is not simply an accessory, but a thing that identifies its owners' status. So, the company image, selling such stuff, should be time-tested and reliable. Famous watch brand logos help to create a solid company presentation. Slider features the most luxury and expensive watches. Featured products are also showcased in a slider. Ghost buttons perfectly fit the layout. Latest blog posts and Google map are also available on the home page.
Brilliance
Brilliance is a professional Shopify theme for online stores selling fashion clothes and accessories. Its layout with somewhat chaotically arranged website elements resembles a page of a fashion magazine – a smart trick to emphasize your store's exclusivity. It is designed with black and white colors only, using narrow lines and serif fonts, and therefore looks extremely elegant and crisp. The theme's navigation has been minimized into a stylized hamburger menu to save space and keep the design clean. In the footer you will find a block with a Google Map widget organically implemented into design.
Belly Dance
Bright, colorful, engaging, belly dance web design should be just like that. Products showcased almost at the top of the template allow you to get your customer interested right away. A responsive eCommerce Shopify theme like this may become a great basis for many online stores. Its Parallax effect adds motion to the theme, a hover effect creates more interaction between a user and a website, and clean widgets create a cozy and converting atmosphere of the store. Apart from that, your visitor will see where your store is thanks to the map with your address on it at the bottom of the website.
Shine
Shine Shopify Theme
Luxury Lingerie
Lingerie Shopify Theme with powerful features, easy to customize, power admin, cool effect. We hope you will have a great experience.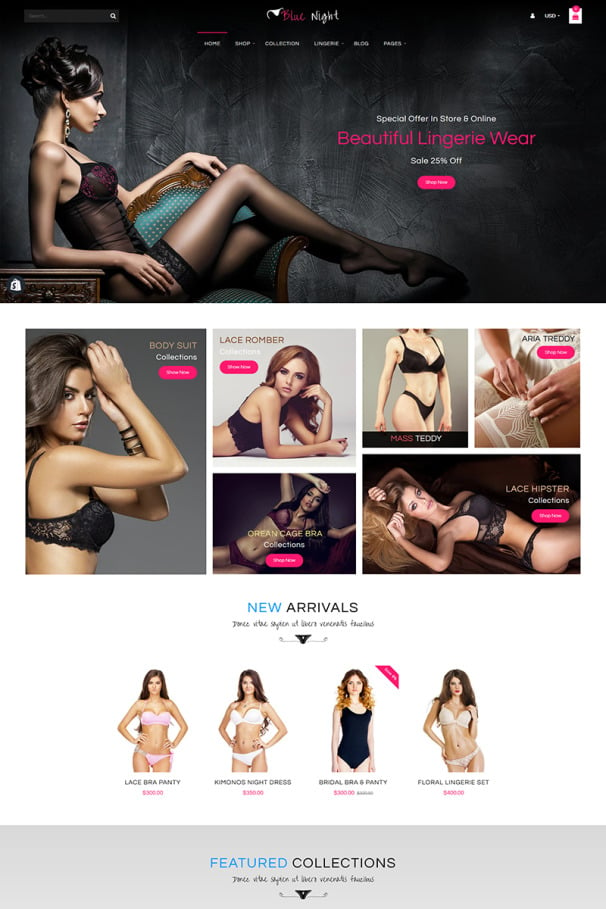 Multipurpose Shopify Theme
Multipurpose Shopify Theme with powerful features, easy to customize, power admin, cool effect. We hope you will have a great experience.Theme compatible with Shopify 2.x
West Side Multipurpose Shopify Theme
West Side Multipurpose Shopify Theme is a premium Shopify theme with advanced admin module. It's extremely customizable, easy to use and fully responsive. Suitable for every type of store. Great as a starting point for your custom projects.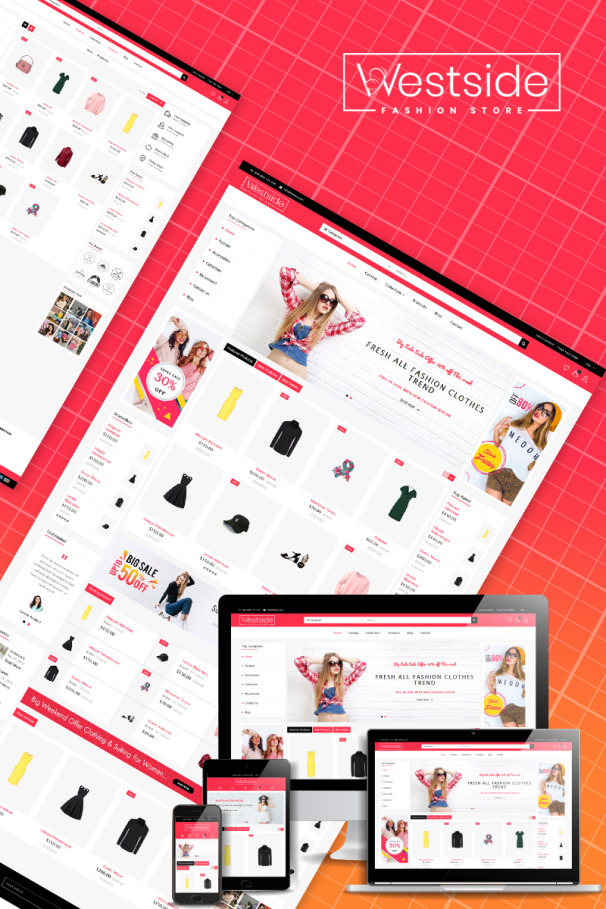 Best Fashion Shopify Theme
Best Fashion Shopify Theme is a modern, clean Shopify theme – best suited for a fashion store. When you choose a variant of a product (like size) it displays automaticlly the rest of options available (like color) and hides the one that are not available.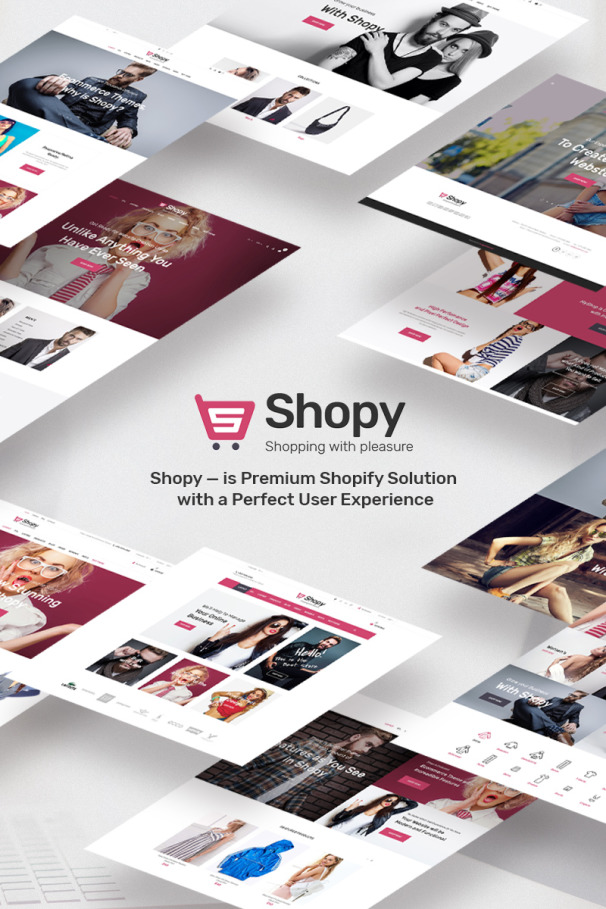 Leather
Material Design is the hottest trend in responsive website development. Google's Material Design language is the future of adaptive/responsive web design. It not only provides a colorful, flat design that users are familiar with, but also provides a natural more organic user experience that will keep visitors on your webpage and experiencing the conversation. Premium WMD theme offers a full Google Material Design experience.
Novetty is a Genuinely Multi-Concept Shopify Theme with unlimited layout options and a lot of unbelievable features. It's suitable for any store such as: fashion, retail, furniture, Jewerly, accessories, beauty, cosmetic, flowers, kids toy or any store
Bewear
Bewear is uber clean and modern Responsive Shopify Theme with Lookbook / Collection style to inspire your clients with your products.
The idea – sometimes the client does not know what he wants expect that he should change a bit his wardrobe – thats why this projects is focused on Lookbook / Collection style to inspire the client and stimulate his imagination.
Cosmify
Cosmify is a fully responsive shopify theme. It comes with a very sleek and simple design which will perfectly fit for Fashion, Cosmetic, Fragrance stores. This theme is responsive enough to respond to PC, Laptop and latest mobile devices like iPhone, iPad, Samsung etc.
Cosmify responsive Shopify theme is extremely attractive, exceptionally easy to customize and extend, has been built with the advanced features of Shopify Theme, such as: Mega Menus, Layer Slider, Google Web fonts, Search Engine Friendly, products widgets, brands slider, ajax add to cart, product image light box, and much more to make your online store more productive.
Jacket
Jacket Shop is an Unique, Versatile, Stylish, Full Screen Shopify theme created with much love and care. With all these features below Jacket Shop will not fail to impress you.Have a Ride with all these features.Responsive design: Looks great on desktops, laptops, tablets and mobiles. Give it a try on your iPhone or iPad now. Highly customizable: Change colors, fonts, background image through the theme settings. No coding required!. Supports multi-currency: The currecies AUD,CAD,USD,GBP,JPY,EUR,NZD,INR,PHP are inbuilt with theme
Crazy Fashion
Crazy Fashion – Shopify Responsive Theme is a clean and elegant design – suitable for selling clothing, flower, cookery, accessories, fashion, high fashion, men fashion, women fashion, accessories, digital, kids, watches, jewelry, shoes, kids, furniture, sports….. It has a fully responsive width adjusts automatically to any screen size or resolution.
We have included 2 defined layouts for the home page to give you best selections in customization. You can mix between all home page layouts to get a different layout for your own website. The homepage is designed eye-catching with large slideshow above and below Mega Menu. The slideshow is great with smooth transitions of texts and nice images.
Venus
Stylish Shopify Fashion Theme – Venus
Need Fashion
NeedShop – Responsive Flexible Shopify Theme. It is an ideal theme designed for any kinds of shop such as Fashion, Cosmetics, Jewelry, Nails, Perfume, Glasses..ect. This theme is outstanding with 4 premade unique homepage demos with different layout structures, styles and colors.
In addition, NeedShop is impressive by some cores features that surely you can't ignore such as Mega Menu, Product List, Product Detail, Quick View Product, Add to Cart, Fully Responsive Web Design. With this feature your website can be displayed perfectly on all electronic devices such as Desktop, Ipad, Iphone, Smartphone, Tablet Android.., which give your shop a consitnet look in no matter which devices the customers are using.
Fashion Planet
Fashion Planet is a minimal, classy and modern Responsive Shopify theme Perfect for stores of any kind, such as fashion, clothing, watches, jewels, digital gadgets, furniture etc., Mainly designed to sell rich & luxurious products. Theme is written with smooth and modern HTML5 + CSS3. It looks and works great on mobile devices, tablets and computers.
The design is slick and minimal that directs attention straight to your products. The store framework is extremely versatile and easy to customize.
Fastion
FASTION is a ultimate responsive Shopify theme inspired by modern ecommerce designs. It's best suite for any store such as: fashion, furniture, lingerie, technology, accessories.
Fashion Room
Fashion Plus is powerful responsive Shopify theme for Fashion with creative design and variety of premade design concepts to show off products in smartest ways and build professional Fashion store. The theme has 4 premade unique demos with different layout structure, style and color theme. The Fashion shopify theme supports 2 view modes for product listing page: Grid view and List view, all the views are lean, show info that user wants.
The theme includes all shop pages: Product listing, product detail, add to cart, checkout, quick view … with customized layout and style to make it look incredible. The product filtering system is powered with the integration of modules: Categories list, Filter based on product attribute, New products, Related products… to help user find out their best fit items at a glance. The Shopify theme is easy to customize with the Theme Customizer tool that let you change settings for most of the pages, sections in the site based on predefined parameters.
Velvet
Velvet is a Best Premium Shopify Theme designed and developed by ThemeForest?s Top Elite Author. The new theme in 2015 and latest update in 2016. This theme is responsive, mobile compliance. W3C, HTML5, CSS3 strictly valid and compatible. Theme suits for: fashion store, clothes, apparel, shoes, t-shirt, casual wear shop.
Beat
Do you have a passion for alternative clothes? If you are about to start up an online business in the future, Beatshop – Responsive Shopify Theme is so cool for you to build up. It is perfect for selling clothing,cookery, accessories, fashion, high fashion, men fashion, women fashion, digital, kids, watches, jewelries, shoes, bags, glasses …..It is designed and tested to be 100% responsive so it works & displays flawlessly on all types of devices including smartphones and tablets.
Clothing & Fashion
Clothing & Fashion Responsive Shopify Theme – TheShop. 100% fully Responsive with Twitter Bootstrap 3,HTML5 & CSS3 & Sass CSS,Font awesome icons integrated
Clothing Store
Let's make your business worldwide with Shopify EstNeque. No one can take eyes off impressively amazing visual effect of the theme, which is defined by CSS3/HTML5. It brings fresh look to your store as well as makes visitor excited and looking forward what they will experience in your store. Multi-layered slideshow emphasizes suggestion you made and make it even more attractive.
The most noteworthy feature of the template is Dropdown menu which gets along the website when visitors scrolling down. Templates help their shop super duper easier and faster. Besides of slideshow, you can promote your prominent products via today's promotion slider and product widgets. In each product page, visitors will see a vertical optional menu that suggests them more choices for their shopping, from categories to brands. Cloud zoom tag, searching field, extra footer, and social network icon bring you more than you can imagine.
Redhat
This responsive Shopify theme was developed specifically for caps and hats stores. It comes with features that facilitate a shopping experience. Attached to a sticky bar, all the main store options always stay in view while scrolling. Thanks to a mega menu, you can display not only links but also product images and other HTML elements in its drop-down panel. Ajax cart enables buyers to add products to it without reloading the page. Sorting options also let them order items by the price, alphabet, etc. To highlight discounts and new arrivals, ready-made badges will come in handy. The theme supports multiple currencies so that international buyers could adapt prices to their needs. Its card-style structure delivers the content in an easy-to-digest and stylish manner. Combining sliders and large promo banners, the layout keeps offerings front and center. A built-in switcher makes customization a breeze. You can edit the default palette with a single click – just switch between pre-made color mixes. This Shopify theme is also integrated with a blog, which will let you share interesting content with customers and improve SEO rankings of your store.