If you would like to provide online learning or "eLearning" by way of your own website, then using an LMS WordPress theme is the perfect solution. LMS stands for Learning Management System, and these types of theme allow you to provide courses and lessons which your students can enroll on and be educated it a structured way. Online learning is big business, meaning you can integrate these types of websites with a payment processor or eCommerce plugin and charge money for your students to enroll.
Some larger examples of online learning websites are Udemy, Lynda and Codeacademy – these sites are making millions from teaching people new skills.
---
Exclusive
WPEngine Coupon Code
for AlienWP Visitors!
Get 5 Months Free & 30% Off All Plans.
Click the coupon code to copy and open the link »
---
---
A LMS at heart is basically a membership website which allows students to enroll and ( optionally pay for ) gain access to a course around different subjects. A good system will enable user registrations, drip-feeding of content, different subjects, rewards for students and so on. It will also allow the teachers to create new content and keep in contact with their students, they could also allow the students to communicate with each other though user-groups, forums or a chat system.
If you would like to start your own site of this type, the themes listed in this collection are perfect for that purpose – check out over 50 of the best eLearning and LMS WordPress themes for 2017.
Academica
The Academica WordPress theme is a simple but effective template for educational, blogging or nonprofit organization websites. While simple in design, Academica does not lack in terms of features as it comes with a large number of customizing options and layouts. The theme is also fully responsive for seamless viewing on any device. You get all of this with Academica at absolutely no cost because it is free.
More Infoicingo WordPress Hosting
Capital
Capital is a fully responsive WordPress theme that comes with built-in integration for your event calendars. All the homepage elements are widgetized which means you can arrange the layout the way you want. Capital is a perfect theme for blogs, educational websites, LMS, CSR websites and nonprofit organizations.
More Info & Demo WordPress Hosting
Social Learner
The Social Learner WordPress theme makes learning fun and easy with integration for BuddyPress and social learning in a cool yet simple layout. The theme helps you create gamified learning goals, tons of options to connect to social media platforms and engaging content display in a fully responsive layout.
More Info & Demo WordPress Hosting
Private Teachers WordPress Theme
The Private Teachers WordPress theme is a perfect choice for a professional enterprise. The theme exudes a sense of seriousness while managing to stay friendly. The nice simple color scheme helps blend your website with the idea of learning management. While not too flashy, the theme does come with some neat customizing options and features. Nicely tucked away menu options are collapsible, thus providing more space for the content. Text blocks are made transparent which looks very trendy but does not affect legibility. Once a teacher is chosen, mousehover over their portrait reveals more information about them. This theme is extremely suitable for teaching agency website.
More Info & Demo WordPress Hosting
School District
The School District WordPress theme is a great template for an educational organization website. The theme is built with lots of colors to represent the vivacity and youthfulness that marks a student's life. Designed tastefully, School District comes with lots of colorful boxes to replace the traditional menu options we see in most themes. This out of the box design helps the viewer easily identify the options they want and makes navigation extremely easy.
The theme is available with many menu options, buttons and icons to choose from and also has social media sharing options enabled. Built on top the Cherry Framework, a website built with School District loads very fast which is an icing on the already delicious cake.
More Info & Demo WordPress Hosting
Acadam – University
When it comes to LMS (learning management systems), no WordPress theme is perhaps as feature laden as the Guru. A guru of all other themes, Guru comes with WPML (multilingual) support, BuddyPress support for social platforms, quiz systems, course creation, course completion tracking, points system, WooCommerce support and extensive lesson management features.
Guru is the perfect theme to create an online e-commerce platform for your teaching services, create a learning environment with video tutorial support, Mail-chimp integration for email support with attachments and event calendar integration. Guru manages to provide you with all of that while still managing to look stunning. For an online content management system, LMS or a for a personal teaching/training website, Guru is the most perfect of choices.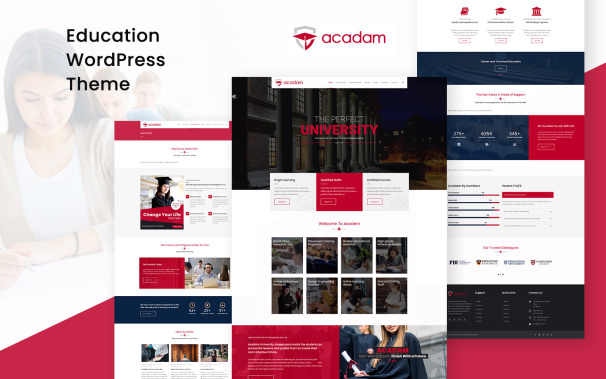 More Info & Demo WordPress Hosting
Masterstudy
With a beautiful responsive layout, Masterstudy is here to take care of your online LMS website worries. The theme is designed with vibrant eye-catching colors and an elegant layout that should keep the viewers engaged easily. The theme is designed with in-depth knowledge about the education industry so you can expect a plethora of useful features to make your job easy. Masterstudy is a masterful choice for an LMS, learning center or educational websites.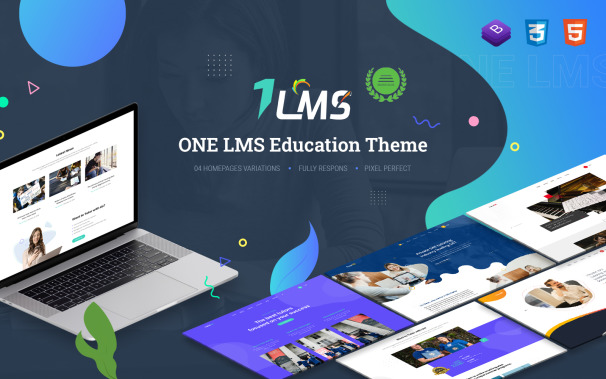 More Info & Demo WordPress Hosting
BeSmart
For creating an online course development, LMS or learning center website, BeSmart is a smart choice. Developed using the Twitter Bootstrap 3 template, BeSmart looks professional and smart in the truest meaning of the words. With many features to easily allow course creation and develop a proper learning system, BeSmart is also a great choice for educational blogs, event specific websites or online tutorial websites.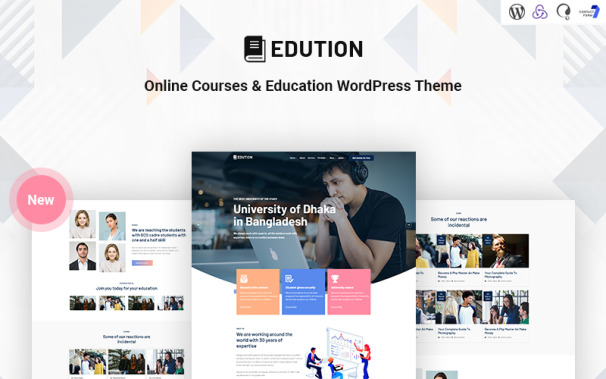 More Info & Demo WordPress Hosting
Invent
The Invent WordPress theme manages to put all of your educational website needs into one basket. Designed after extensive study of existing educational and LMS websites and their shortcomings, Invent comes with a host of features to help you create the perfect online LMS website. It looks very neat and uncluttered making it perfect for college, school or even a university website. Invent comes with Woocommerce support which makes it equally good for a corporate website or product website.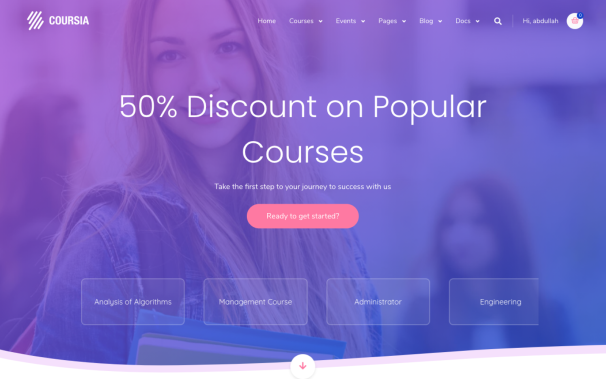 More Info & Demo WordPress Hosting
American State University
The fully responsive Milagro WordPress theme is a monster when it comes to creating LMS websites. The theme manages to provide you with more than 600 Google fonts, unlimited color schemes, a plethora of templates to choose from and many customizing options. Milagro is extremely easy to set up so you can get your website up and running in no time. This theme is perfectly suited for online LMS, online courses, privation teaching agencies or personal teaching websites.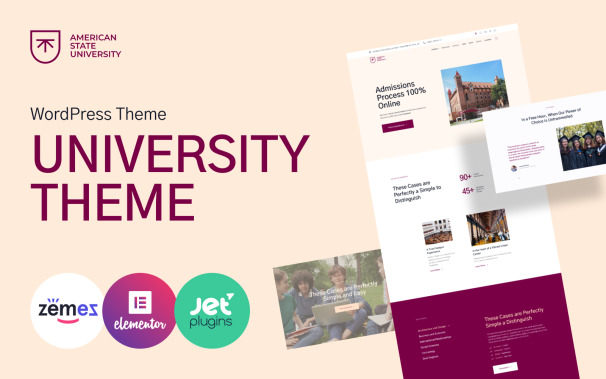 More Info & Demo WordPress Hosting
eCoaching
The SmartOWL WordPress theme is an elegant and effective WordPress theme for LMS, eLearning, online courses, teaching agencies, school, college or even an event management website. SmartOWL looks unique and comes with plenty of features to make your website a premium one.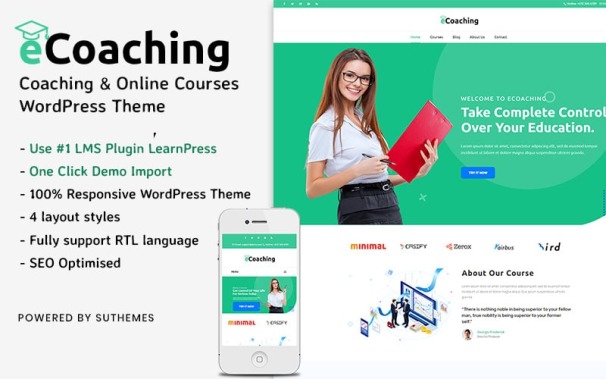 More Info & Demo WordPress Hosting
Education News
Academia is a multipurpose WordPress theme designed especially for educational websites. With its multitude of templates, customizing features and clean smart layout, Academia can be a great choice for any type of website.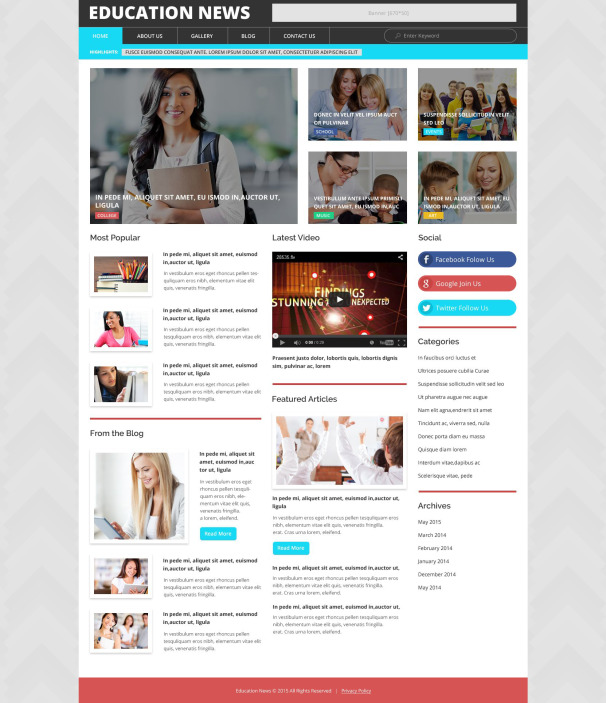 More Info & Demo WordPress Hosting
North West
A WordPress theme created to sell online courses, Clever Course can take your online LMS or tutorials website to the next level. Simple to use and easy to work with, CleverCourse allows you to sell your existing course content full or in parts. It also supports online quiz options to evaluate the effectivity of the courses. CleverCourse can also be a perfect choice for university, school or college websites.

More Info & Demo WordPress Hosting
Longriver University
The Lincoln WordPress theme comes with built-in support for LearnDash, one of the most popular LMSs. Lincoln will give you options for LearnDash in the theme dashboard, loads of customizing features to tweak the LearnDash elements, custom sidebars and many other flexibilities to build the site you want. All of this makes Lincoln the perfect theme if you want LearnDash to power your online course website.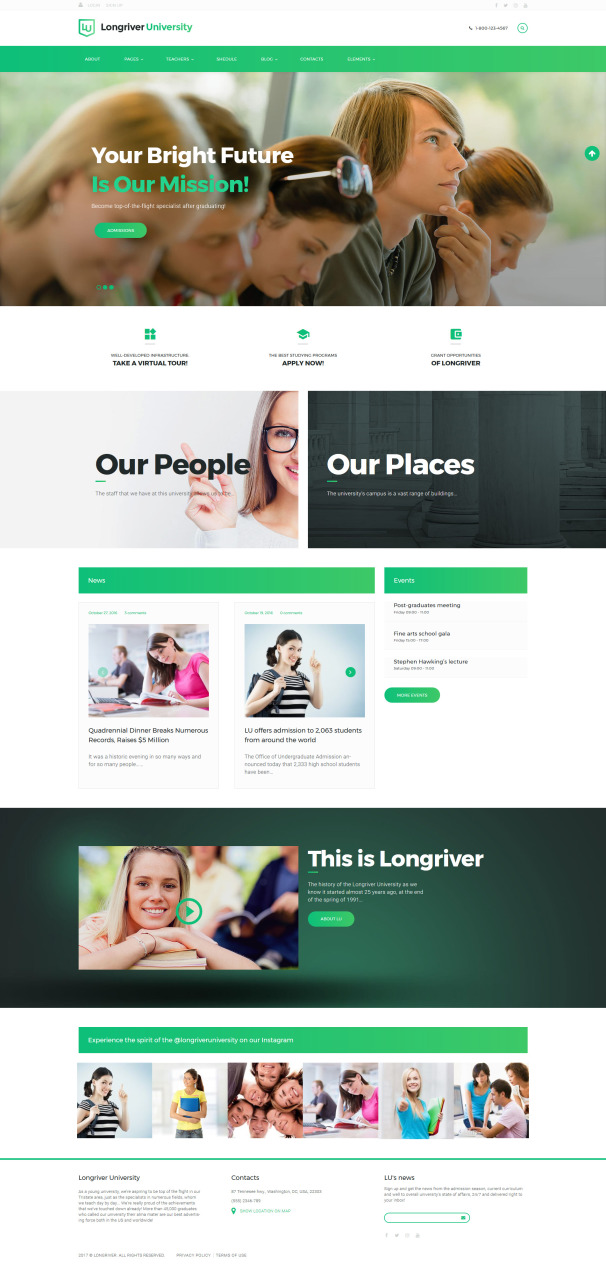 More Info & Demo WordPress Hosting
Education Blog
Simple, uncluttered and content rich, that is Edubase for you. This WordPress theme has a minimalistic design but does not lack in terms of features. With neatly segmented menus, support for event calendar integration, BuddyPress for social networking and features to build your online courses, Edubase is one of the best themes to create an online course, education, blog, or school website.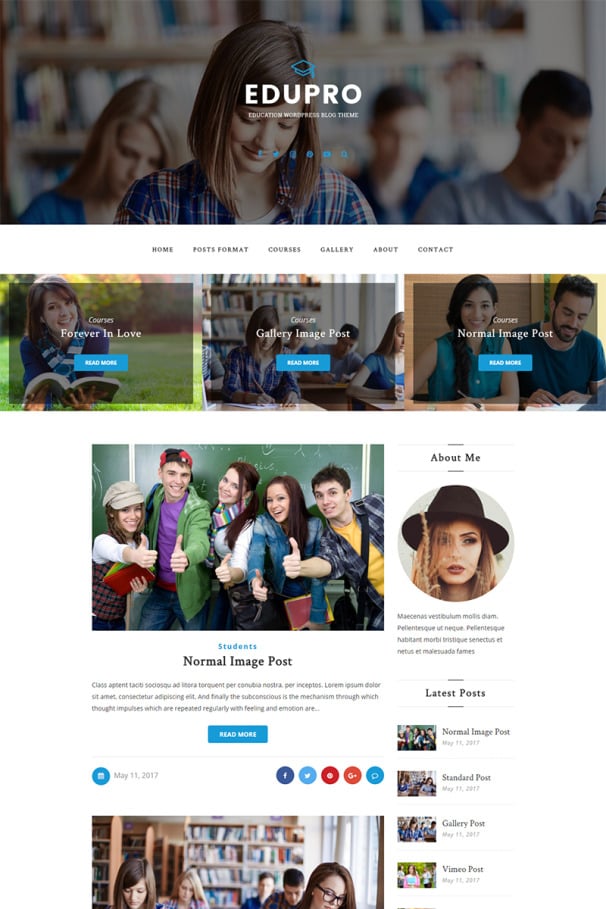 More Info & Demo WordPress Hosting
Cedar High – University
The Smart Learning WordPress website comes with so many pre-made contents and layouts that you perhaps won't have to move a muscle to use it. The Smart Learning theme is available with 4 demo layouts, teachers, Course, Blog pages and Events, each featuring separate style, layout and design. It also comes with a fully responsive design and manages to look beautifully professional no matter which device or screen size you open it with.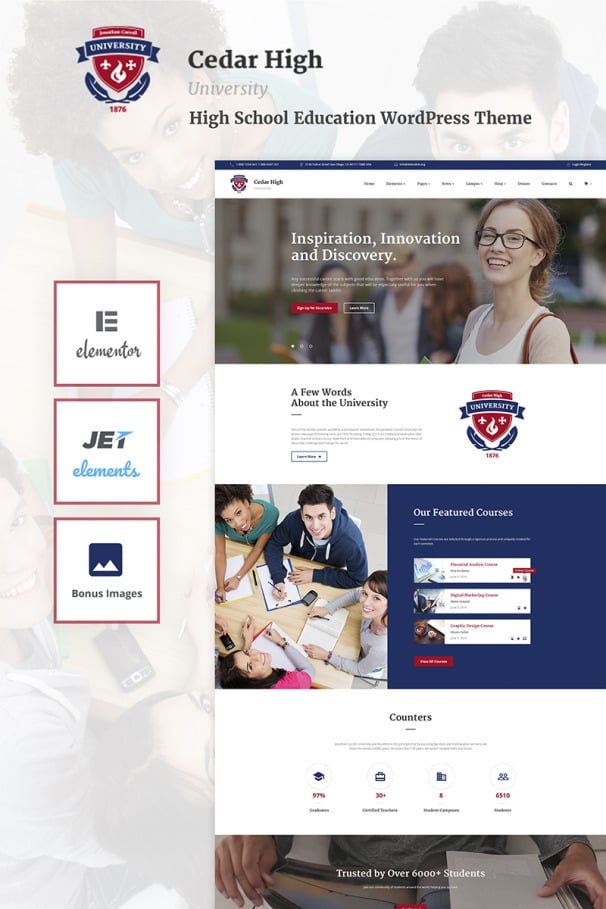 More Info & Demo WordPress Hosting
Teddy Academy
The eLearning WP theme is performance oriented, simple and powerful template to create a perfect LMS website. The theme has support for quizzes, questions, lessons and courses that are simple to create and setup. The theme also has integrated support for so you can easily sell your online courses with eLearning WP.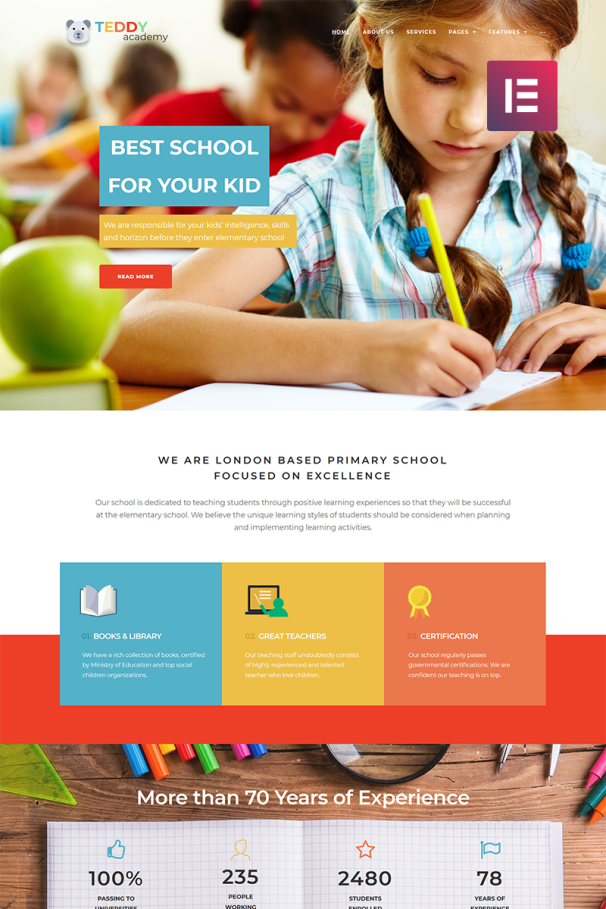 More Info & Demo WordPress Hosting
Kiddlez – Primary School
Build your online LMS the smart way with Smartway WordPress theme. Designed to use the Namaste LMS plugins, creating free or premium learning content with Smartway is a child's play. Just install the theme, take advantage of the plugins and features, design your online courses and you are done. With the option to set up e-commerce, selling your courses is now easier than ever. With full width fully responsive layout to handle the content, Smartway is a great template for online LMS, courses, teaching agencies, certification courses and more.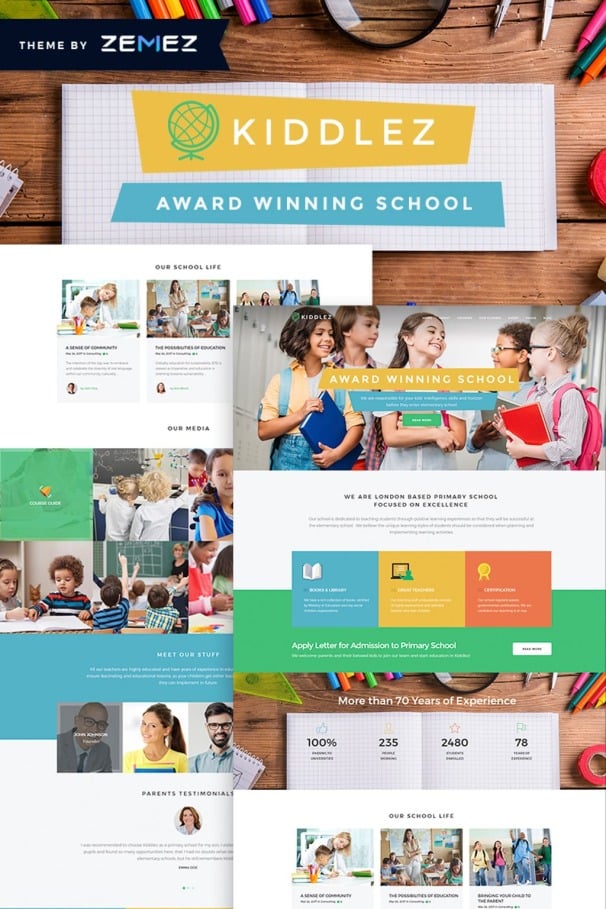 More Info & Demo WordPress Hosting
High School Promotion
University of College Education (UOCE) is an extremely powerful and flexible WordPress theme designed for colleges and universities. But with its innumerable options and choices, UOCE could easily be the template for any content management, online coaching, tutorial, online courses or LMS website. It comes with options to create courses, events, dates, course timing, pricing, scheduling and features.
UOCE is SEO ready and WPML ready. Multilingual support allows you to reach out to a diverse group of learners. Also with its many customizing options, UOCE can be easily tweaked to suit your requirements. Smart, professional, rich yet uncluttered, UOCE should handle all your LMS worries.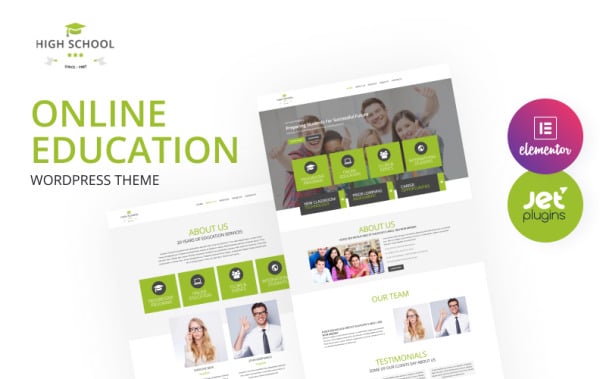 More Info & Demo WordPress Hosting
Education Center
Aptly named the Education Center & Training Course, this WordPress theme takes your online course management to a whole new level with an unmatched visual appeal. Boasting a robust fully responsive layout, Education Center & Training Course comes with one click demo installation which makes creating your website a breeze. The unique and appealing site design should keep the visitors hooked to the site for as long as you want.
Education Center & Training Course is Woocommerce and WPML ready. Easily create the courses online in multiple languages and setup your e-commerce store to reach out to a larger group of learners. With its numerous theme customizing and coloring options, this theme is one of the best templates for an educational organization.
More Info & Demo WordPress Hosting
Tutor – Online Education And Teaching
One look at the EduGate WordPress theme and the word that comes to mind is stunning. With beautiful color schemes that can appeal to any visitor, EduGate comes with plenty of choices to create an online LMS or course management website. With its fully responsive layout, EduGate can be a perfect choice for schools, colleges, online tutorials, learning portals and course management websites.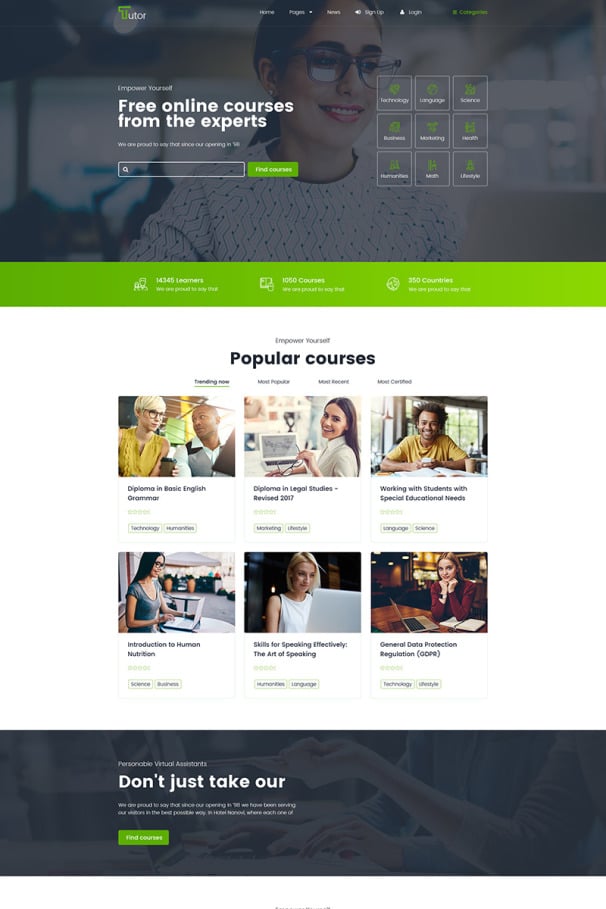 More Info & Demo WordPress Hosting
Ustudi – Online Courses Education & University
A simple, modern and elegant option to go for, the Education WordPress theme is a fun template to play with. With a full page full-width slider showcasing your goodies, you can use this theme to create a stunning and visually appealing LMS website with ease. Education is fully responsive and perfectly suited for schools, colleges, libraries, LMS, course management, CMS, academies and even business websites.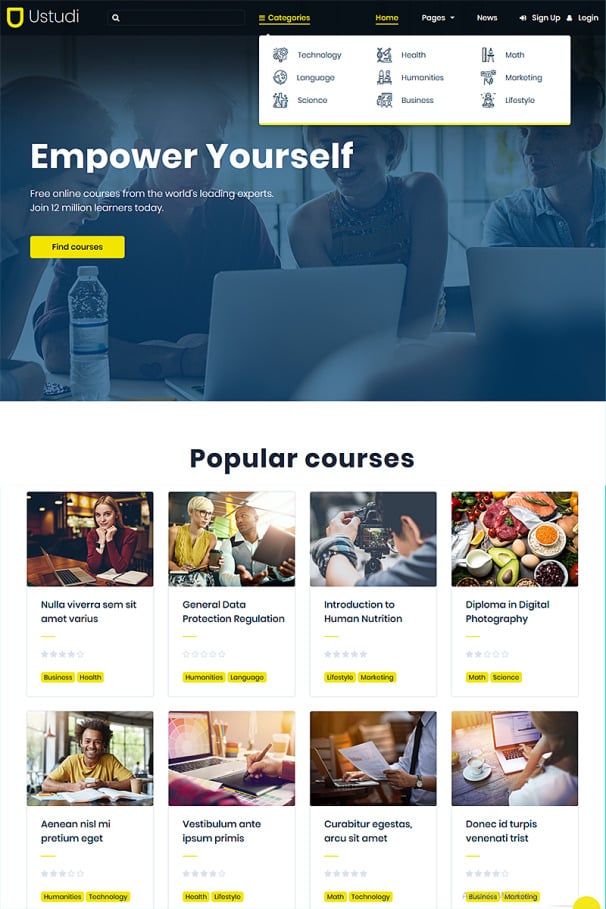 More Info & Demo WordPress Hosting
Ethic LMS Theme
The Ethic WordPress theme is a fully responsive multipurpose theme boasting stunning display and amazing flexibility. Ethic comes with a strong admin panel that lets you tweak the website however way you want. It is a great theme for colleges, schools, educational institutes, academies and online course management websites.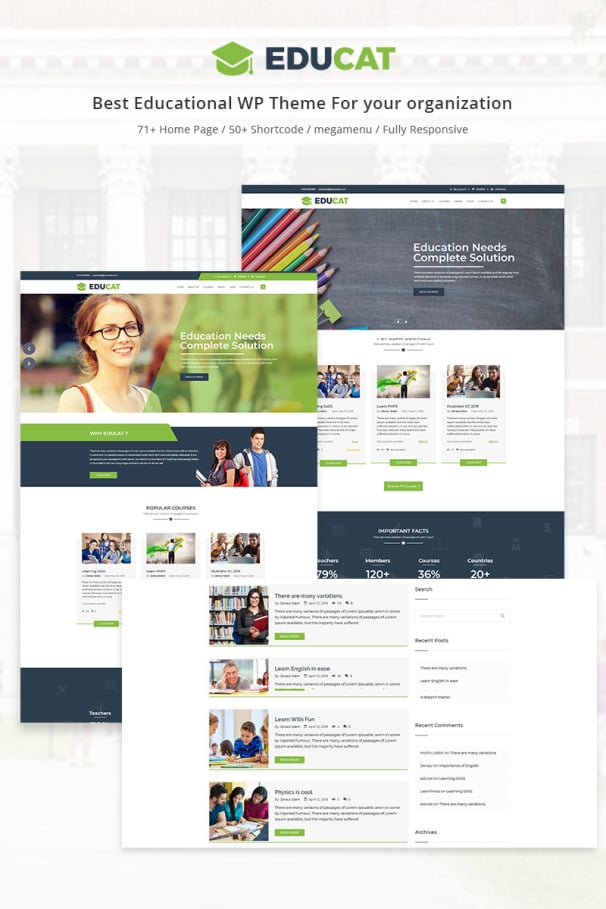 More Info & Demo WordPress Hosting
Skillfully
The SKillfully WordPress theme is an online LMS or course management system that is developed with commercial tutorial or tutoring websites in mind. With support from the Google Material Design and plugins, you can use Skillfully to create paid online classes, subscriptions for learning content, course preview and pay per class systems. The theme is extremely elegant with minimalistic design and full-width background image support.
More Info & Demo WordPress Hosting
Learn – Education
The Learn WordPress theme lets you create amazing websites for your LMS and online course management systems. Fully responsive and Retina Ready design makes websites created with Learn a delight to browse on any device with any screen size. Learn comes with supports for online questions, lessons, courses and quizzes that will make the learning experience fun and interesting. Learn also supports setting up paid learning materials if you are in the education business. It is a wonderful choice for any school, college, LMS, CMS, academy, teaching portal or online tutorial website.
More Info & Demo WordPress Hosting
Online University
The Online University WordPress theme is a powerful template powered by LearnDash, the most popular LMS system on the market. Online University is created with distance education in mind but it is extremely suitable for colleges, universities and tutorial classes websites. Online University comes with many customizing options and a user-friendly admin panel that makes creating and tweaking your website very easy.
This fully responsive theme has a great color scheme and beautiful layout to supplement the great courses and classes you can create with it. It allows creating courses that users can register with and take exams upon completion. Learning with Online University will certainly be a delight.
More Universityo WordPress Hosting
Arsim
The Arsim WordPress theme is a simple yet powerful template for any educational blog, academic, school, college, educational institute or paid online course management website. The theme is available with a builder plugin that lets you just drag and drop to build your websites and the courses without writing any code. Arsim is Woocommerce ready which makes selling your online courses extremely easy.
More Info & Demo WordPress Hosting
Language School
The Language School LMS theme is powerful WordPress template designed to get the best out of your online course management, educational portal or distance learning website. Language School comes with support for Events Calendar and built-in Timetable. This lets you handle every aspect of your online educational portal, be it designing courses, creating class schedules, announcing events or showcasing conferences. With its smart and modern layout, Language School is definitely the LMS theme to go for.
More Info & Demo WordPress Hosting
EDU
Built on top of the SmoothThemes framework, Edu is a WordPress plugin designed to give you the best of LMS for your college, tutorial, online courses or educational institute website. Edu comes with a built-in page builder that lets you just drag and drop to create your website. The toolkit provided with the theme also includes support for shortcode, font selector and many custom widgets to make your website stand apart from the rest.
More Info & Demo WordPress Hosting
University
University is a multipurpose education theme created with the educational websites in mind, Simple, easy to the eyes and yet feature-rich, University comes with many customizing options to choose from. You can easily set up an online paid courses website with the theme or use it for LMS, CMS, course management, a school or college website.
More Info & Demo WordPress Hosting
Polytechnic
The Polytechnic WordPress theme is built to perform. This professional looking modern and elegant theme can handle whatever you throw at it and then some more. It comes with drag and drop page builder so you can create your website in minutes without even writing any code. The theme allows you to create a complete LMS, distance education or virtual learning environment by providing options to add new faculty, roles and extended user profiles.
Polytechnic comes with support for blogs, an online store, faculty grid and filterable grid, course design, course catalog, "White Label" login for users and many live customizing features making it one of the most complete educational WordPress themes available.
More Info & Demo WordPress Hosting
EduLMS
The EduLMS WordPress theme is the one solution for all your online LMS problems. The theme comes with the Revolution Slider built-in giving your website that professional touch. Custom theme and menu options make creating the exact look and feel you want a piece of cake. It supports unlimited courses, lessons, lesson topics and examinations. Option for creating complete well-rounded examinations allows you to set quizzes, passing marks, upload new lessons with ease and provide students the option to upload assignments.
EduLMS is also WPML and SEO ready. With WPML support, you can offer your courses in other languages. The theme is fully customizable so you can use any image, background or color you want and have a perfect website for your online LMS. EduLMS is fully responsive as well so your students can view the lessons and take exams from any device they want, giving them complete freedom. Add to all of this an uncluttered elegant layout and you have got a clear winner.
More Info & Demo WordPress Hosting
My University
The My University WordPress theme is a simple yet powerful template that is suitable for all. With its plethora of customizing options, the theme can be tweaked to your needs if you know your coding or even if you do not know a single line of code. My University is ultra responsive, making it a great choice for all screen sizes and devices. The theme is developed on the Bootstrap 3 Framework making it blazing fast. It is the ultimate choice for a school, university, educational institute, online course management or LMS website.
More Info & Demo WordPress Hosting
Academy
Created for selling online courses and offering your LMS to the world, the Academy WordPress theme will come in handy if you are really planning to build an online academy. The theme is simple, modern and easily customizable to take care of your LMS problems.
More Info & Demo WordPress Hosting
Statfort
With easy installation options, Statfort will get your educational website up and running in no time. This WordPress theme is a fully responsive and highly customizable template that is perfect for schools, colleges, universities, online LMS and course management websites. Create courses and sell them comfortably with Statfort. With short code support, event calendar support and e-commerce options, picking up Statfort for your educational website is an obvious decision.
More Info & Demo WordPress Hosting
Varsita
Varsita is WordPress theme developed for educational websites but can be used for a host of other purposes as well. Varsita has a clean, modern and beautiful layout that will surely attract the eyes of visitors and students. With Varsita it is extremely easy to develop an online course and offer registration to the learners. It comes with integration for event calendar which makes event scheduling very easy.
The theme comes with many customizing options so setting up your website the way you want will be a walk in the park. Varsita is fully responsive and makes a great partner for a school, college, university, educational institute, distance learning or LMS website.
More Info & Demo WordPress Hosting
iKnow
The iKnow WordPress theme is a fully responsive online LMS template that can be used to create an engaging online course management website. With iKnow, creating teacher and student profiles, designing courses, building quizzes, ratings, support for attachments and integrating event calendar is a breeze. iKnow also comes with Woocommerce support so setting up your online lessons and courses business was never easier.
More Info & Demo WordPress Hosting
LMS Press
The LMS Press WordPress theme is a fully responsive smart and modern template to create your online education website with utmost comfort. LMS Press comes with clean well-documented coding that you can tweak easily to create the website you want.